"Barit" the Sniper rifle of the MORO warriors in Mindanao
|
"Barit" the Sniper rifle of the MORO warriors in Mindanao
By: Kerwin Salvador P. Caragos
The Browning M2 .50 caliber (12.7mm) Machine Gun has long been the heavy machine gun of choice of the Philippine Army.  It is a World War II era automatic, belt-fed, recoil operated, air-cooled, crew-operated machine gun. The M2 is crew transportable with limited amounts of ammunition over short distances.
This gun  has a back plate with spade grips, trigger, and bolt latch release. The gun is equipped with leaf-type rear sight, flash suppressor and a spare barrel assembly.  By re-positioning some of the component parts, ammunition may be fed from either the left or right side. A disintegrating metallic link-belt is used to feed the ammunition into the weapon.
The gun is capable of single-shot (ground M2), as well as automatic fire and may be mounted on ground mounts on most vehicles as an anti-personnel and anti-aircraft weapon.
This weapon can be used effectively against personnel, light armored vehicles; low, slow flying aircraft; and small boats. The M2 machine gun on the M3 tripod provided a very stable firing platform. Together with its slow rate of fire and its traversing and elevating mechanism, the M2 was used to a very limited extent as a sniper weapon during the Vietnam war at fixed installations such as firebases.
Snipers pre fired the weapons at identifiable targets and worked the data into range cards insuring increased first-round accuracy.  The 1st Battalion, 5th Infantry, 25th Infantry Division constructed 20-30 foot high shooting platforms, adding steel base plates and posts to further stabilize the M2 on the M3 tripod. Together with the use of Starlight night vision scopes, the M2 severely limited enemy movement within 900 yards (1,000m) of the perimeter of a firebase.
US Marine Gunnery Sgt. Carlos Hathcock pioneered using the M2 Heavy Machine gun by mounting a Unertl scope on the weapon.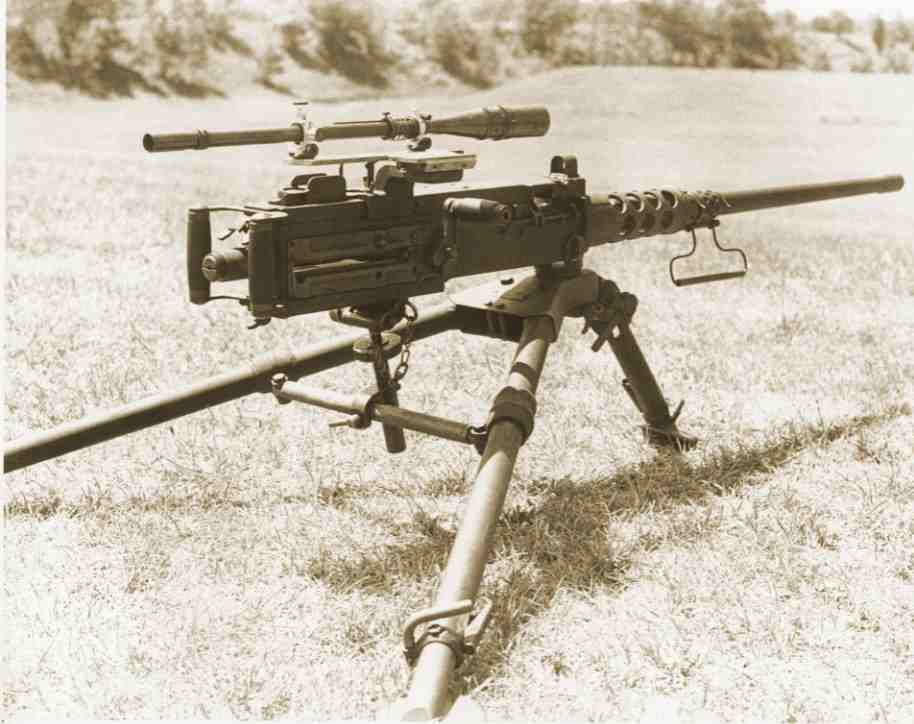 Needless to say, the M2 became the most widely used and widely praised heavy machine gun in the world.  It has it's drawbacks though.  At a sustained rate of fire, the barrel would overheat and needs to be replaced (at least every 75 rounds) hence the need for extra barrels that the gun crew would replace to prevent ammunition "cook offs" and warped  barrels and eventually damaging the machine gun itself. Replacing the barrels would also allow the used barrels to cool off and extend it's service life. (There is a M2HB or "Heavy Barrel"  Machine gun that would allow the gun crew to shoot more bullets before replacing the barrel).
M2 spare barrels were soon pilfered by no good members of the armed forces and were selling it to the Moros who were more than eager to buy the "surplus" barrels.
Enter the Barrett Sniper Rifle.  The M82, standardized by the US Military as the M107,  is a recoil operated,  semi automatic, magazine fed,  anti-materiel rifle developed by the American Barrett Firearms Manufacturing company.  Designated as a heavy SASR (Special Application Scoped Rifle, it is used by many units and armies around the world. It is also called the "Light Fifty" for its .50 BMG (12.7x 99mm NATO) chambering .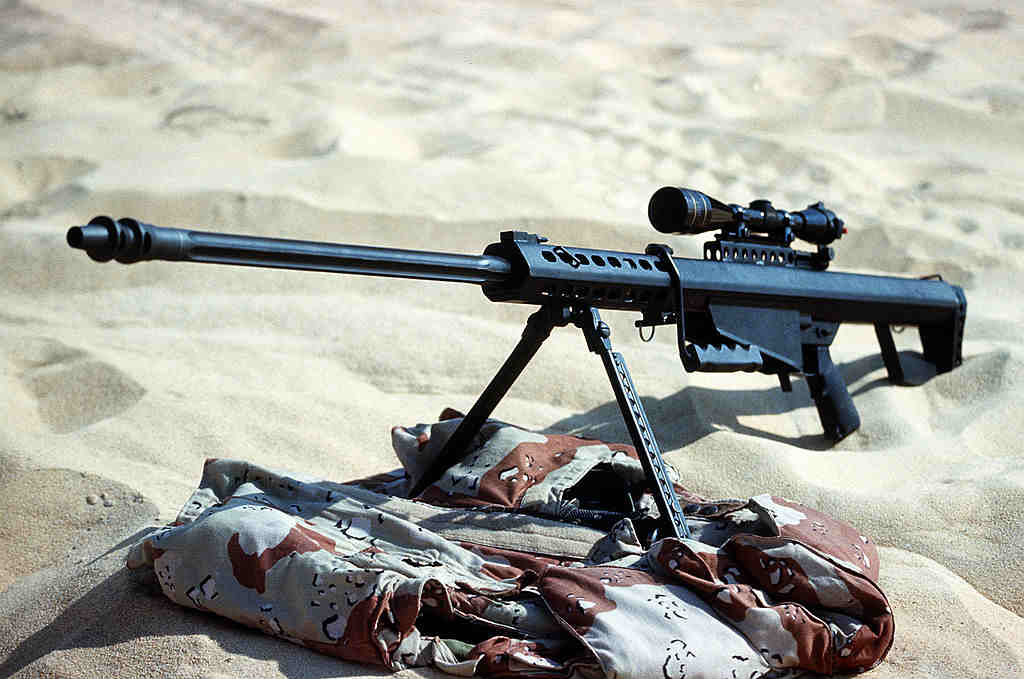 A Model 82A1 .50-caliber sniping rifle deployed by the 60th Ordnance Detachment during Operation Desert Shield.
The Philippine Army and Marines must have deployed a lot of M82A1 Barrett  in Mindanao and must have been very effective using it, earning the respect of the Moro fighters that the Moros soon developed their own .50 caliber sniper rifle.  The spare M2 "surplus" Barrels were given a new lease in life.  Mated with a home built receiver, bolt, trigger mechanism and a superbly carved wooden stock, the Moros created their own .50 caliber sniper rifle.  They called it the "BARIT".  It is a .50 caliber,  bolt action, single shot rifle mounted with a scope, usually a Bushnell that looks eerily familiar to the scopes used by the Philippine Marines for their MSSR (rifles).
Just how effective is the weapon?  The SAF troopers who fought in Mamasapano had a first hand experience with this deadly weapon where 44 of their comrades were killed.  This weapon can penetrate body armor,  the light armor of the HUMVEE's  and most APC's,  and because it is a .50 cal, could definitely be used in shooting helicopters  as well.   That is how dangerous the weapon is in the hands of a trained marksman.
During Thursday's Senate hearing on the Mamasapano carnage, Cayetano questioned MILF chief negotiator Mohagher Iqbal about an address in barangay (sitio) Katol, General Salipada Pendatun, Maguindanao, which was allegedly the site of an MILF weapons manufacturing facility.
"Can you tell me kung bakit significant ang address na ito? Di ba ito ang address ng pagawaan ng armas ng MILF?" he asked.
He also showed a photo of a Barrett M107 .50 caliber sniper rifle, which has a maximum range of 2 kilometers.
"Ito po ang pumatay at bumasag sa bungo ng marami po sa ating mga SAF. Ang isa nito ay P750,000 to P1,000,000. Hindi po kaya ng dalawang buwan na training ang gumagamit nito dahil ang effective range nito sa .50 caliber na bala ay 2 kilometers. Ito po ay may gawaan na po ng bala nito kaya kahit anong surrender ng gamit, ay meron na po," he said.
He also said there is a Bangsamoro Military Industries (BMMI) which has three weapons factories.
Iqbal denied any knowledge of the factory or any existing BMMI.  ( http://www.abs-cbnnews.com/nation/02/12/15/milf-still-making-weapons-cayetano-iqbal-disagree)
While the Original Barrett would cost around 8,000 to 10,000 dollars in the US, It's price, as quoted by Senator Alan Cayetano is close to a million pesos (that is how much our DND is willing to "spend" for this weapon) in the Philippines.  The single shot Barit however can be produced, at less than a 100,000 pesos including the Optics (Scope) and the locally manufactured bi-pods.
Can the Government make their own "Barit" using spare M2 Machine gun Barrels?  Of course.  Even Better.
An unidentified MILF fighter poses with his Moro version of the Barrett Rifle.             (getty images)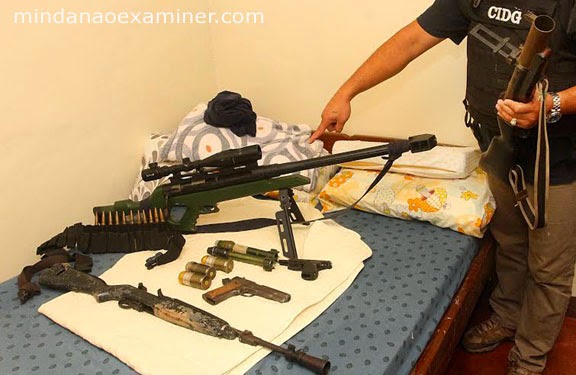 A weapons cache from a confessed "former MILF"  seized by the PNP includes a Barit sniper rifle.  Police Superintendent Cholijun Caduyac inspects weapons they seized – a .50-caliber sniper rifle, a M1 Carbine, a .45 and .380 caliber pistols, including an M79 grenade launcher and munitions – from Sadad Akob in the village of Tanuel in Datu Odin Sinsuat town in Maguindanao province in the restive Muslim autnomous region in southern Philippines. January 2015 (Mindanao Examiner Photo – Mark Navales)
http://www.mindanaoexaminer.net/2015_01_01_archive.html
A Barit rifle with a Bushnell scope.  Photo by: Mr. Froilan Gallardo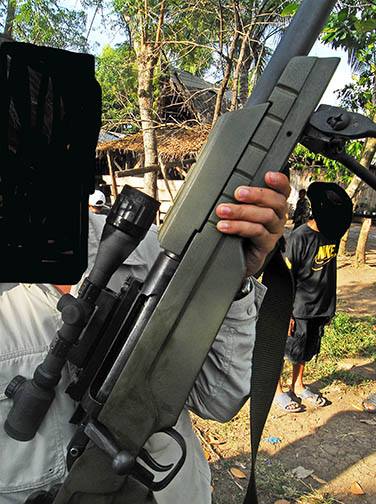 A close up look on the bolt and trigger assembly of the Barit rifle.  It is a straightforward single shot bolt action rifle. The design is heavier than the Original Barrett because of the wooden stock.  With the Bushnell scope and the .50 caliber's flat trajectory, it becomes a weapon that Government troops should be worried about. (Photo courtesy of Mr. Froilan Gallardo)
The book "The Grim Reaper" by Roger Ford was used by the author as reference.