Josefa Llanes Escoda, the Filipino Martyr (1898-1945)
|
Josefa Llanes Escoda was known as the Spiritual Leader of the Underground during World War II in the Philippines. She was also the founder of the Girl Scouts of the Philippines and a well-known Filipino advocate of women's rights of suffrage.
Josefa Llanes (y) Madamba-Escoda was born on September 20, 1898, in a small, quiet town of Dingras, Ilocos Norte. She was the eldest of the seven children of Mercedes Madamba and Gabriel Llanes.
After graduating with honors at the Philippine Normal College in Manila, Josefa Escoda worked as a teacher for a while before she joined the American Red Cross. Shortly after, she was given a scholarship by the Red Cross to study in the United States. While she was at the Women's International League for Peace in 1925 at the United States, she met a reporter from the Philippine Press Bureau named Antonio Escoda, whom she married. They had two children, namely: Maria Theresa (who became the President of the Cultural Center of the Philippines when the late Cory Aquino was the President), and Antonio, Jr.
In the year 1944, during the Japanese invasion in the Philippines which led to World War II, Josefa, together with her husband Antonio held underground activities which included bringing food to both Filipino and American prisoners of wars. Due to their unfailing courage and determination, their activities were able to reach to different places in the Philippines.
As the Japanese occupation extended, Josefa and Antonio strengthened their smuggling business of sending both Filipino and American war prisoners supplies of medicine, food, used clothing, wooden shoes, and even coconut shells for plates. They were also able to deliver the prisoners' messages to their loved ones in the provinces.
Unfortunately, the Japanese learned about their activities, so they arrested Antonio Escoda in June 1944, and he was detained at Fort Santiago, with Josefa following him two months later, in August 27 to be exact. In the same year, Antonio was executed together with his fellow prisoner General Vicente Lim. On January 6, 1945, Josefa was brought to one of the Far Eastern University buildings which was occupied with the Japanese. She was harshly beaten and became weak, then she was transferred to a Japanese Transport. It was assumed that she was executed and was buried in an unmarked grave, either in the Manila Chinese Cemetery or La Loma Cemetery which the Japanese troops used as the place of execution and burial grounds for thousands of Filipinos who courageously expressed their resistance against the Japanese occupation.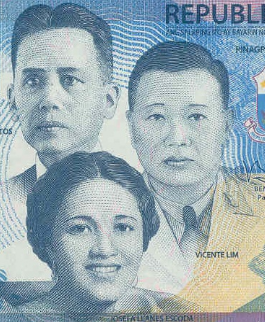 (Jose Abad Santos, Vicente Lim and Josefa Llanes Escoda in the new generation Philippine 1000 peso bill.)