The Murder of Father Thomas Rocks SJ, Claveria, Mis. Or.
|
Father Tommy Rocks was a Jesuit Priest and the Prefect of Discipline of Ateneo de Cagayan High School and a member of the Ateneo college faculty.  When the Japanese Invaded Mindanao in May 1942, Father Tommy took to the jungle fastness of  Northern Mindanao to escape being interned by the Japanese so he can continue to minister to the American  and Filipino refugees.  He was killed by a band of Higaunon men who call themselves "Magahat", or  fierce warriors whose sole purpose was to seek justice or revenge for their people.  Apparently, they were furious at the American and Filipino lowlander's incursion into their territory and death by the bolo was the only way to appease their anger.   In reality they were a band of murderers who were after the fine weapons and the material things the Americans and civilized Filipinos posses that they do not often get to see and own in their jungle homes.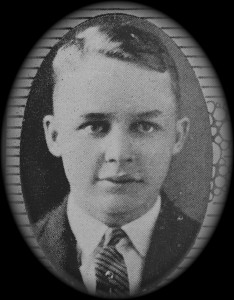 Thomas J. Rocks, seen here in his 1924 high school graduation photo, was born in New Castle, Pennsylvania, to Hugh M. and Elizabeth Newman Rocks. The family lived on Wildwood Avenue. "Tommy" attended St. Mary's School (1911-1920) and New Castle High School (1920-1924). He went to Holy Cross College (1925-1926) and entered the novitiate of the society of Jesus at Poughkeepsie, New York on August 14, 1926. Completing his novitiate in 1928, he took his classical studies there (1928-1930) and his philosophical courses at Woodstock College (1930-1933).  For the next three years he taught at the San Jose Apostolic Seminary, the Ateneo de Manila and Sacred Heart Novitiate Manila in the Philippines and returned to Woodstock in 1936 for his theological studies. With nearly fifteen years of preparatory education he was qualified to enter the priesthood. His ordination took place on June 21, 1939 at Woodstock, Maryland.  Father Rocks said his first mass in New Castle. Pennsylvania, at his hometown parish of St. Mary's on Sunday, June 25, 1939 with Father William F. Galvin and Father Leo S. Watterson, as decon and subdeacon.  After his ordination he returned to the Philippines and taught at the Ateneo de Cagayan, Cagayan de Misamis,  Misamis Oriental. (http://www.lawrencechs.com)   The Dark clouds of war hovered over Northern Mindanao with the coming of the Japanese invasion fleet on May 1,  1942.  Within days, they gained a toe hold on the vital Sayre Highway that links most of Mindanao by crushing the American and Filipino defenders at Tagoloan and Bugo, Cagayan de Oro.   By May 10 1942, sensing the futility of defending Central Mindanao, Major General Sharp surrendered his forces to the Japanese.   In Cagayan de Oro,   American civilians including Bishop James T.G. Hayes and some Jesuit priests at Ateneo de Cagayan were incarcerated by the Japanese occupational forces.
But not all soldiers heeded the call to surrender, and not all American citizens were captured. Many retreated into the hills and jungle fastness of Mindanao, and stayed  and waited for hostilities to cease. Among them was Father Thomas Rocks, who evaded capture  in order to minister to the American and Filipino refugees' spiritual needs.   It has been weeks since the USAFFE surrendered, and He was in the hills of Claveria, Misamis Oriental, visiting a  couple of American stragglers when the event happened.
He was suffering from dysentery, and has been staying there for  awhile as he was too weak to travel. On June 4,  1942, the feast of Corpus Christi, he was vesting for Mass when a threatening group of armed men appeared across a small river.   One of the Americans,  Pvt. Clyde Marion Abbott (6553635) of the 19th Bombardment Group was lightly armed with a .45 caliber M1917 revolver thought they would not stand a chance against the threat,"let's get out fast," they agreed.
"You go" said Father Rocks.  "I'll stay and guard our things.  Filipinos will not harm a priest.  I'll talk to them."   Two long-haired filthy fellows, much darker than the ordinary Filipinos, climbed the ladder to the house.  After much discussion they left, apparently satisfied.  Father Rocks went on vesting for Mass.  Once below, the bandits shot up through the bamboo floor killing Father Rocks instantly.  They then went back up the house and hacked up the body, sacked the house and left.   The robbers were a band of Magahats, pagans of the mountains.  They had gotten their guns by treacherously murdering Filipino Soldiers who had sought refuge among them.  No Christian Filipino would have broken the sacredness of hospitality.   The Americans came back and buried Father Tommy Rocks there in the mountains of Claveria.
"We did the best we could," Abbott told Father James Edward Haggerty.  "I am not a Catholic, but we loved Father Rocks, and we put his robes on him before we buried him."   When Father Haggerty heard the story, he wrote in his diary:
"Few of us here may live to see America return, Father Rocks is fortunate.  When I have to go I hope it will be beautiful like that, a quick, painless end, clothed in vestments, standing before the altar."
(excerpts from the book: Guerrilla Padre in Mindanao)   Father Rocks was 37 years old.  He was survived by two brothers, Hugh of Waynesboro, and Edward J. of New Castle, and a sister, Ms. Ellen of Mercer, Pennsylvania (http://obs.stparchive.com/Archive/OBS/OBS03281943p02.php)     Kerwin Salvador P. CaragosPost Script:
According to Anthropologist Dr. Antonio J. Roa Montalvan, the indigenous people in the area of Claveria, Mis. Or.  belonged to the ethnolinguistic group of the Higaunon people, who like the Manobo had their own version of "Magahat" warriors And yet, "The Higaunon and Manobo people are totally different ethnolinguistic groups. simply put: they  do not live together,  they can't co-exist and each one doesn't like the other."