Francisco Guariña Cedula: The Battle of Piis, Lucban December 26, 1941
|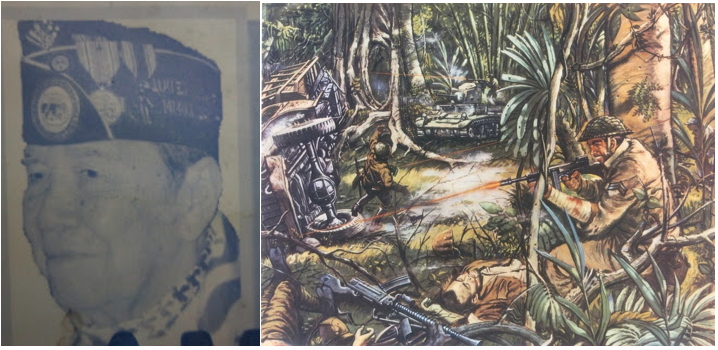 Francisco Guariña Cedula was born on January 7, 1923 to  Anastasia Guariña and Armando Cedula,  He grew up in Legaspi, a town in Bicol where he completed his elementary education.  He finished his secondary education at Mapa High School in Sta. Mesa, Manila.  There, he finished the compulsory summer cadre training qualifying him as a reservist.  At the break off war, the reserves were called to active duty and Frank Cedula was one of those boys who answered the call to colors.
Dawn, December 22, 1941.  We reached the outskirts of Pagsanjan, Laguna on board a long convoy of busses commandeered by the military.  Our battalion strong force disembarked and bivouacked to await further orders.
I was fresh out of high school with two months summer cadre training, qualifying me as a reservist.
At seventeen years old, I was inducted to the USAFFE and assigned to the 1st Infantry of the 1st Regular Division (PA),  together with other trainees and volunteers with hardly any military training. 
We were part of hastily organized force that, I later learned, was intended to oppose an expected enemy landing in the eastern coast of Luzon, later known as the Southern Front.  The following night, we were re-assessed and divided into several groups; our group proceeded to Mauban, a Coastal town facing Lamon Bay.
Shortly after our Convoy crossed the Pagsanjan river's bridge, We heard a loud explosion, We did not know then what the explosion was.   I later learned that the USAFFE Engineers blasted and destroyed the vital bridge connecting Pagsanjan with the eastern towns of Laguna.  Clearly, our force had become dispensable and meant to be sacrificed as a rear guard unit.
This was the first time in my 17 years of existence that I was able to reach a place far away from home. There was much excitement within the group, we were young and full of energy.  Inspired by our superior's claim that we Filipino soldiers would easily defeat the enemy, (we considered Japanese residents in Manila as an inferior race).  We flashed the Victory sign to the people watching from the road sides as they cheered us on.
We passed by columns of   U.S. M3 Stuart light tanks, parked on the roadside (Identified later as belonging to Company C, 194th Tank Battalion, attached to the USAFFE).  I never could have imagined that these same tanks would support us the following day in our attempt to break the enemy roadblock.
As we sped towards the East we were forced to scamper several times from the bus to seek cover from Japanese seaplanes flying above. There were less jokes and laughter by now. Finally as the convoy reached the outskirts of the town of Sampaloc, A tall lean American Officer I Later identified as Gen. Albert M Jones appeared from nowhere and signaled the vehicles to stop. Then our immediate officers and commanders ordered us to form a defensive position and dig foxholes. As Anticipated the Japanese Forces, Identified later as 20th Regiment 16th Division, came on shore on Christmas Eve of 1941, supported by naval guns and planes.
With their superior artillery the Japanese overwhelmed The PC-USAFFE's first line of defense by the morning of Christmas day and was now probing our lines outside of Sampaloc.  Our rifles, the model M1907  Enfield though old was quite new to most of the boys, some never even fired one.  Experience and equipment wise, we were no match to their fearful machine gun and mortar fire.  We had to retreat several times.   We regrouped by late afternoon, only to find out that our Battalion was reduced to half with some men wounded and so shell shocked that they were not fit to fight. Those men who crawled in their line, those who did not move fast enough, those who did not hear the whistle to withdraw, were killed or captured in their foxholes.  Counting those who were not fit to fight, the dead and the missing, about a third of the Battalion was destroyed. Some may have escaped into the forested areas to avoid captivity. It was indeed the most unforgettable Christmas day of my life.
Before dusk, the remnants of my company were joined by men from other companies.  We were about 150 men with only one commissioned officer left.  Exhausted by the continuous exchange of fire and forced marches I quickly fell asleep with my buddies under the trees.   A kilometer away, near a coconut plantation where we sought cover during the night, we could hear the Japanese vehicles and artillery in the highway moving westward to Lucban.
2nd Lieutenant Arcadio Mayor (PMA Class 1941), fresh from the Military Academy took command of the re-organized company, decided that we should remain hidden.  By the morning of December 26, 2Lt. Mayor sent a courier, guided by a native familiar with the mountain trails, to contact the American tankers to support our intended breakthrough on a Japanese roadblock, a kilometer from our lines. The courier never returned.  2Lt. Mayor kept time until the late hours of the day, sensing trouble, Mayor after planning with his noncommissioned officers, ordered the Company to take to the highway.  We were then in the Village of Piis, Lucban.
As our Company rushed forward, Japanese heavy machine gun crews hidden from sight opened fire on us, pinning us to the ground.  We returned fire as best we could.   We took in heavy casualty as firing from our end quickly diminished.  I saw 2Lt. Mayor crumpled  down with a bullet hole in his steel M1917 doughboy helmet.
Flashes and gunfire coming from the other side of the hill made me realize that the American tanks were firing in an attempt to break the roadblock from their side of the Line.  This action emboldened me and my comrades, still alive to rush through the gap created by the firing of the American tanks. Several of us, dashed to the gap, with fixed bayonets.  Suddenly, we were upon Japanese troops taking cover from incoming fire who met us with rifles with fixed bayonets. As one Jap lunged at me, I parried his strike with my rifle, only to be struck in the back of my head by another Jap.  I remember falling down as I felt bayonets stabbing my chest and shoulders.
I gained consciousness by the early morning of December 27 but could not get up because of extreme pain and weakness. I lay together with my dead comrades, hovering between periods of consciousness until 5 days later; a burial party of residents from the village found me still alive and brought me to their mountain evacuation center, where I was given first aid.
Military historians may not be familiar with this Battle of December 26, 1941 in the Village of Piis, Lucban the second town from Mauban the Invasion port, but the facts spell out the significance of the Battle.  It successfully enabled the surviving American tank Battalion Operators including Parker in command of the Southern front to escape and reach Bataan to fight again.  About 10 bodies of American tankers were counted and buried on spot of the Battlefield.   Close to a hundred Filipinos of Combat Company were killed in hand to hand combat.  They were buried on the site of the Battlefield by the residents  of Piis .Lucban, remaining there for 5 years, until a US graves recovery team, transferred the remains without any identification whatsoever, to other Military Shrines.
As of Japanese losses, I have no knowledge nor of the able and wounded Filipinos who escaped. As far as I know, I am the sole survivor of that battle.
Frank Cedula received further treatment in Bicol where he joined the resistance movement. Cedula initiated the creation of ROTC Hunter Sta. Mesa Chapter in Manila.  ROTC Hunters is a guerrilla organization that was formed in the suburban town of San Juan, Rizal.  The Sta. Mesa ROTC Hunters Chapter in cooperation with other resistance organizations like Hunters ROTC and Andersons Guerilla undertook clandestine activities during the entire four (4) years of enemy occupation.
The unit also assisted in the liberation of POW's in the Bilibid prison in Manila. (Recto St. former Azcarraga).   Frank  remained in the resistance until the end of World War II.
In 1966, he went to Manila.  In  Manila, he decided to go to Zamboanga to work as a Tuna exporter. He became a pioneer in Zamboanga's Tuna export Industry. He stayed there until the declaration of Martial Law by former President Ferdinand Marcos.
September 1972, during the Martial Law period, he and his family decided to leave Zamboanga and stay in Dumaguete City for a  year, then went back to Manila.  Subsequently, Francisco Cedula founded the Federation of Fishing Associations of the Philippines (FFAP). He served in the federation for over two decades.
In 1977, Francisco Cedula became the Director-General of the Aquarium (Ornamental) Fishing Industry in the province of Bulacan under Marine Fishery & Development Foundation.
Eventually, Cmdr. Francisco Cedula retired in the Fishing Business. He then pursued his career as an active veteran who participated in every advocacies regarding their rights and benefits. As time went by, Francisco Cedula was elected as the National Commander of the Philippine Veterans Legion on January 2002.
In 2006, he    supported the Filipino- American veterans with the help of U.S. Senators in FAVFA-NV (Filipino-American Veterans and Families of America – Nevada).
On February 2, 2011, Cmdr. Francisco Cedula died in Nevada.  He was 88 years old.