The Ponson Island Massacre, Barrio Dapdap, Ponson Island, Camotes Islands, Province of Cebu.
|
Geoge Daugherty pointing to victims of the Ponson Island Massacre (Photo taken 29 Dec.1944)
"Mistreating and killing without cause or trial more than 300 unarmed non-combatant civilians, and wounding and attempting to kill 50 others, the entire population of the barrio of Dapdap, Ponson Island, Camotes Islands, on 29 December 1945."
So says the entry found on the bottom of Page 6 of the trial of General Tomoyuki Yamashita Memorandum by Brig. General Courtney Whitney.  A simple paragraph to accommodate hundreds of accounts of Japanese War Crimes to the people of the Philippines.  The date however could be erroneous.
It happened sometime late October, 1944 After the battle of Leyte Gulf (23–26 October 1944), When the Japanese troops garrisoned at Ponson Island discovered hundreds of dead Japanese sailors that washed ashore in Punta Pilar.  In anger and frustration, the Japanese troops, most of whom were Korean conscripts were ordered to annihilate the entire population of Barrio Dapdap by their Japanese officers.
To do that, the Japanese tricked the residents into attending a meeting in the local church, with promises of extra food passes and rice rations for those who would attend.  An offer many starving Filipinos could not resist.  As hundreds came, they were forced into the small church and made to wait for the others.  By noon, the people were asking the Japanese that they be allowed to go home for lunch.  But as soon as the Japs saw they have enough numbers to satisfy their lust for revenge, they started shooting and bayonetting them.  The victims tried to run but they were trapped.  When the Japanese left, only 50 persons survived the ordeal.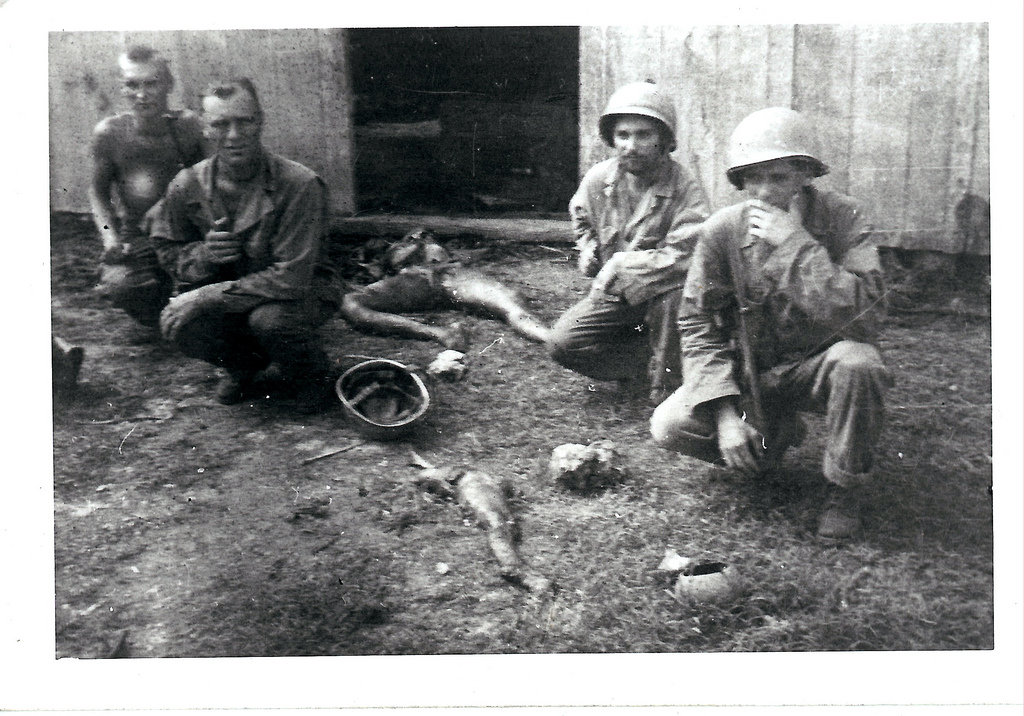 Dackoski, Krueger. Fioriea, Howard / Bad scene inside of aftermath just witnessed inside Church and body parts in front of entrance. 60 dead by bayonette inside

With no one to bury the dead, the bodies were left to decompose for more than a month until the American liberation forces came and saw for themselves the Japanese atrocity now known as the Ponson Massacre.   As the survivors came down from the hills, their testimonies were taken and the gruesome scene thoroughly studied, the Americans started burying the dead.  The church had to be doused with gasoline and burned with the dead still inside as the stench of decaying human flesh was overpowering.  More than a hundred bodies were cremated inside.
The Ponson Massacre was one of the landmark case filed against the Japanese General Tomoyuki  Yamashita.   He was found guilty and hanged on  23 February 1946, at Los Baños, Laguna Prison Camp, 30 miles (48 km) south of Manila.
Photo credit: https://www.flickr.com/photos/gigeorge/3145743232/in/photostream/
Read more: http://newsinfo.inquirer.net/165663/remembering-the-japanese-occupation#ixzz3JS3fXYcU