Victorio Ludan and his Violin
|
During the war, many less well-known Americans and Filipinos  resisted the enemy, but either they did not survive the war, or they left no records, or they simply returned to civilian life and forgot the war. Thus, it is that their achievements, often brief but significant, that have attracted much less attention.
One such story was that of a quiet, unassuming, and unsung guerrilla named Victorio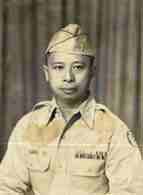 Victorio "Toyung" Ludan  was a teacher and a musician.  He played the Violin. When war broke out, he  was already a married man with a couple of kids, but this did not stop him from carrying out his patriotic duty.  A graduate of the University of the Philippines and a member of the reserve force, He became a member of the intelligence unit of Maj. Nakar's Guerrilla outfit in Bayombong, Nueva Vizcaya.  Nobody in town knew about his role. Hence, he was allowed to move around freely while using his teaching job as cover.
The Japanese headquarters was just around a block from his house. The 2-story Ludan ancestral home stood directly across the street facing the lateral section of the centuries-old St. Dominic Cathedral of Bayombong.   The iconic church was built in the 1700′s under the direction of Spanish Franciscan friars. A stout Catholic, Victorio would often play his violin during mass at St. Dominic's during the dark days of Japanese occupation.
In time,  Victorio's reputation as a violin player reached the ears of the local Japanese hierarchy. Thus, on Sundays, as many as five Japanese officers led by their commander and smartly dressed in military uniforms, would visit our house. To the delight of the Japanese officers, Victorio obligingly played his favorite violin encore pieces, which included Jules Massenet's Meditation de Thais, Vittorio Monti's Czardas, Manuel Ponce's Estrellita, Georges Bizet's Habanera, and a sprinkling of contemporary music. This became a regular weekend rendezvous. In the process, Victorio cleverly picked up bits and pieces of information which he secretly passed on to his guerrilla unit leaders.
Victorio soon enough learned how to play on his violin, Japanese songs which the Japanese officers would gladly provide sheet music for him to read. With his music, he brought tears and happiness to his Japanese audience.  They would sing along as he play the "Aikoku koushinkyouku", a Japanese patriotic song on his violin, and as the ice broke between the performer and his audience, the Japs soon felt at ease with this unassuming musician.
On October 20, 1944, speaking from the invasion beach at Leyte Gulf where his forces had just landed, returning him to the Philippines as he had promised, an emotional General Douglas MacArthur began to deliver his long-awaited address: "People of the Philippines. I have returned. By the grace of almighty God, our forces stand again on Philippine soil… the hour of your redemption is here!"
Later, under the watchful eyes of Japanese occupation officials, Yale-educated and the only Filipino recipient of a doctorate from the University of Tokyo, President Jose P. Laurel of the Japanese-sponsored Philippine Republic, gave an equally stirring speech to the grieving nation. He ended it with a deftly placed hint of good things to come echoing MacArthur's phrase that he slipped past Japanese censors: "Have courage, my dear countrymen, your unhappiness will soon be over. Surely, the day of redemption is dawning." (Dr. Laurel's eldest son, Jose, Jr. was Victorio's classmate and seat mate at the University of the Philippines – students were seated alphabetically according to surnames. After the war, the elder Laurel was granted clemency and Jose, Jr. went on to become a distinguished Speaker of the House.)
The reassuring turn of events however, had not yet reached most Filipinos. But one of the guerrilla runners with the 14th Infantry Regiment made it to Bayombong, carrying the important news.  Through Victorio's spy network he learned that General MacArthur and President Sergio Osmena had returned and that the invasion to liberate the Philippines was in full swing. Happily, Victorio would play, as usual, both Japanese and American melodies during the Sunday soirees.
But that late Sunday afternoon, he tweaked his repertoire to include a medley of three new pieces (American, Filipino, and Japanese) for the concluding two minutes of his performance. The first two were Stars and Stripes and Mabuhay (Filipino for "Long Live") followed by the third, Sayonara (Japanese for "Goodbye'). The first two were intended to announce to his neighbors that General MacArthur, accompanied by Philippine Commonwealth President Osmena, was coming. The third would let them know that the Japanese occupation forces were being pushed back by MacArthur's forces.
For the next couple of months, Victorio would play his popular repertoire and concluded each performance with the rousing 3-piece medley. On December 20, 1944, the dreaded Kempeitei (Japanese counterpart of the Nazi's thuggish Gestapo) arrested Victorio and took him and his violin away. After being interrogated and tortured for several weeks, Victorio confessed to being a guerrilla intelligence operative.  He was convicted and sentenced to the gallows. On New Year's Eve, the new commander learned of Victorio's violin-playing and arranged for him to play several Japanese tunes. Victorio played the violin like he never played it before, with consummate passion. He concluded his performance with an emotional rendition of Sayonara, painfully aware that the clock was fast ticking and that soon he would say his last "Goodbye" to his wife and young children.
The western-educated Japanese colonel was apparently taken by Victorio's violin-playing. The Japanese songs Victorio played were dear to his heart. They evoked fond memories of the colonel's wife and family back home in Japan. After Victorio's masterful performance, the colonel slowly rose to his feet. He reached for Victorio's hand to thank him. With that, he gently picked up the violin and carefully handed it back to him. The colonel turned to his aide and told him to rescind the order for execution. He then declared to a stunned Victorio "You are free to go and you are a friend."
In the midst of an ugly war, a new friendship between a violin-playing, condemned guerilla and a stern Japanese military adversary with an ear for Western classical music had curiously emerged. Victorio, trying to grasp the sudden turn of events, could only mutter, "Thank you, Sir" The colonel's aide led Victorio to the door. Clasping his beloved violin close to his heart, he looked up the starlit sky and thanked God. He quietly walked past the creaky old iron gate.
On June 7, 1945, Bayombong fell to elements of the U.S. 37th Division and Filipino guerrillas of the 14th Regiment. One of the first casualties of the town's liberation was Victorio's house, which was converted into a vital Japanese communications center before the end of 1944. P-38 fighter planes from General George Kenney's 5th U.S. Army Air Force streaked out of the blue sky and demolished the house and other enemy installations. Advancing U.S. ground troops and guerilla units in Northern Luzon also received close air support from the Marine Corps Aviation. For the period March 5 to 31 for example, 186 separate missions were conducted by the Marine Corps.
Preparing to lead his troops out of Bayombong, the Japanese colonel was offered protection by Victorio from guerrilla reprisal by suggesting the colonel surrender directly to him (Victorio earlier had met with his guerilla leaders about this). But the colonel graciously turned down the offer, saying: "I can't do that, Victorio. You know that. I have a moral duty to stay with my troops to the bitter end." He thanked Victorio and grabbed his hand as the two new friends, fighting back tears, said their goodbye for the last time. The colonel was never heard of again. ( Dr. Arturo C. Ludan )
( Mo Ludan, http://www.armchairgeneral.com/a-filipino-guerillas-story.htm)