Wenceslao Q. Vinzons, Statesman, Patriot and Martyr.
|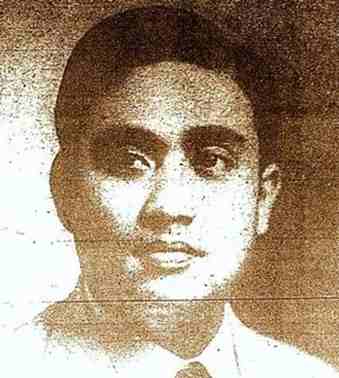 WENCESLAO QUINITO VINZONS, SR. (1910-1942)
Wenceslao Vinzons was born on September 28, 1910 in Indan, Camarines Norte to Gabino V. Vinzons and Engracia Quinito. Vinzons was sent to study Law at the University of the Philippines in Manila after completing his elementary education in Indan and his secondary at the Camarines Norte High School where he graduated valedictorian. He was known in UP Campus for being an awarded orator and debater, member and later president of the student council, editor-in-chief of the school paper, the UP Philippine Collegian, and member of the Upsilon Sigma Phi Fraternity. He was awarded   the Manuel L. Quezon gold medal for excellence in his oration entitled "Malaysia Irredenta" in which he advocated the unity of all Malayan peoples including the Filipinos and the Abad Santos medal for excellence in debate.
Although rich and popular, what endeared him to his schoolmates was his humility and  ability to relate with people. He seldom used his car and preferred to take the Meralco bus to the  university and back to his residence. Among his contemporaries at UP were: Arturo M. Tolentino, Ambrosio Padilla, Arturo B. Rotor, Amado G. Dayrit, Salvador P. Lopez.  Vinzons political activities at UP became broader in scope. In 1932, he rallied the students to protest the plan of the Philippine Legislature to increase their salaries. In 1934, he organized the Young Philippines, a political party comprised mainly of young people, which fielded candidates in the city council of Manila.
In the 1935 national elections, Vinzons supported General Emilio Aguinaldo for presidency against President Manuel L. Quezon by personally campaigning and delivering speeches for the former revolutionary leader. His speeches against voting Quezon became a ground to charge him with libel and sedition for which the Court of First Instance in Cavite convicted him of almost four year prison term. The Court of Appeals, however, acquitted him.
In  a turn of events, Vinzons, already a full-fledge lawyer and his being third placer in the bar exams added to his credit, was elected delegate to the Constitutional Convention tasked to draft the 1935 Charter. He was instrumental in the passage of a provision in the constitution for Tagalog as a national language. True to his commitment to the Filipino people, Vinzons set politics aside and began working for the interest of  his Countrymen.  Although not a Tagalog himself, he supported Pres. Quezon's proposal to develop a national language based on Tagalog.  The non-Tagalog delegates protested the proposal but Vinzons drafted the present text of the section of the National Language, making it more acceptable to the other delegates.  This led to the adoption of the proposal.
Vinzons had carved a name for himself so that in the 1940 elections, he was voted Governor of Camarines Norte.   He resigned his post after serving a year to run in the national assembly in 1941. He was elected representative of Camarines but was not able to serve his term  because of the Second World War that broke out. Vinzons was commissioned as a Lieutenant of the USAFFE, and on a scouting mission in December 17 1941, he reconnoitered south of Daet, spotted and reported enemy troop movement to the 51st Division.  At dawn the next day at Laniton, Basud, Camarines Norte, the boys of the 51st Division battled with the enemy.
Although inflicting heavy casualties on the enemy, the 51st Division could not sustain their campaign against the better trained and equipped Japanese army.  Needless to say, Daet fell to enemy hands by noon. The next day,  the remnants of the 51st Division, buried their guns and avoided coming into contact  with  the main Japanese force.   Vinzons went into hiding with a few men when they linked up with Negrito warriors who came down the mountains complaining of Japanese atrocities committed against their people.  To these complaints, Vinzons advised them to attack the Japanese.  And they did.
Vinzons organized the first guerilla unit in the Bicol region, the Citizen's Army and later his own guerrilla unit.  By February 7, 1942, Vinzons finally organized at his Camp 12 in Piatong-Gubat the "USAFFE,  Camarines Norte Station," the nucleus of his guerrilla unit.  Starting with just 13 Enfield rifles dug up from the Bagasbas airfield, he sent teams to locate and recover as many firearms hidden by the dispersed Filipino infantrymen.  Roads were mined and Japanese vehicles were blown up.  And as more men were armed, he began small scale and sporadic attacks on Japanese foot patrols.
The Japanese counter attacked.  Identified as one of the important enemies, the Japanese hunted him. With the aid of their informants and Filipino collaborators, many guerrilla sympathizers lost their lives. Many of the political followers of Vinzons were killed by the enemy.  Relatives were jailed , including one who was on the family way.  Their efforts however  were rewarded after months of manhunt after a guerrilla named Villaluz was caught and under intense torture informed the Japanese of his hideout.
He was captured on July 8, 1942 together with his father, Don Gavino and his children Wenceslao Jr., Grace and Ranavalona and their household help.  His wife, Liwayway Gonzales – Vinzons, children and Alex and four househelps escaped capture that day as they were bathing and laundering upstream but they were similarly captured a week later.  They were investigated and tortured until Liwayway admitted that she was indeed Mrs. Vinzons.
Mrs. Vinzons and company were brought down to Tulay na Lupa, Labo, where they "disappeared" and were never heard of again.
Vinzons  and his companions were paraded around the town of Labo.   At the Plaza, the Japanese prodded him to persuade the people to cooperate with the  Japanese administration. "I have only three things to tell you," he said "plant! plant! plant!"  Infuriated by his speech, his captors brought him to the Daet garrison.
Fernando Suzara wrote in an issue of Manila Guardian in October 1946 as follows:
"I can still remember that fateful day in July of 1942 when Lt. Vinzons was paraded around the marketplace.  People thronged to hear again that beloved voice.  He was pale, unshaven, malaria stricken.  He would languidly smile and smile and wave his hands at friends.  He was publickly insulted by some Filipinos in a manner reminiscent of the day when our Lord Jesus Christ, on his way to crucifixion was treated in the same way by the Scribes and the Pharisees.
Out of the clear sky came trooping to town, Mr. Benigno Aquino, then Secretary of the Interior, in the company of bayonets and some be-ribboned officers of the Japanese Military Administration.  There was a public meeting.  My province was then the hotbed of resistance against the Japanese and Mr. Aquino had a cure for it.  My province, he said, was like a water container with a leaking faucet, it had to be plugged tight.  Then, we know, death was in store for Vinzons.
There followed a secret conference in the courtroom… Oh, it was a banner day of our political enemies!  There i saw a former Assemblyman, former Mayors, influential Filipinos who had previously been made captives by Vinzon's guerrillas and released.  I did hear of a written petition to have Vinzons killed; but in the sad years that followed, I failed to get hold of a original copy of that accursed document.
The day after Mr. Aquino left, Vinzons disappeared and a terse army communiqué announced of Vinzons having been killed while trying to escape."
On July 15, 1942, Major Tsuneoka Noburo, the garrison commander, confronted Vinzons
in a last attempt to enlist his services for the interests of Japan's co-prosperity sphere. The
Japanese asked him to read a piece of paper to which Vinzons replied: "I know," he answered. "I
have read it twice. They are asking you to execute me."
"Fifty peoporr (people) say you dorobo (bandit). I kirr (kill) dorobo."
"I have not had a trial," he said. "The Geneva Convention says enemy soldiers captured are
not to be killed."
"You terr (tell) where your men go. Where Americans go."
"Your captain, Azano, captured me in the mountains. I do not know where my men or their
guns are now."  The Japanese commander shrieked
"you die, you die!," and slapped him across the face.
"You know, your wife die, she die! I kirr (kill) you too.!"
He answered quietly, "Nothing can make me happier than to die for my country, Major.
You will die too."
Angered, Tsuneoka bayoneted Vinzon's stomach. A Japanese corporal, Kuzumi Taiku, hit
the helpless resistance leader with a rifle butt at the back of the head.
He was killed together with his wife, Liwayway Gonzales, his father, a sister, and two children. Their remains have never been recovered. In his honor, his hometown Indan was renamed after him. In Manila, near Blumentritt, a school is named Wenceslao Vinzons Elementary School. The student center at the University of the Philippines in Diliman, Quezon City, bears his name.
Kerwin Salvador P. Caragos
References:

Agoncillo, Teodoro A. History of the Filipino People. 8th Ed. Quezon City: Garotech
Publishing, 1990.
Quirino, Carlos. Who's Who in Philippine History. Manila: Tahanan Books, 1995.