Little Heart and 'Tucky Jo
|
Little Heart and 'Tucky Jo
Johnnie Wallen  was a mountain boy from Kentucky who convinced his parents to lie about his age so that he could join the army as a teenager.  He was deployed into the Pacific Theater and ultimately ended up on the island of Luzon, in the Philippines.  It was there that he befriended a tiny little girl, that he called Little Heart because of a heart shaped birthmark on her lower arm.  She called him Kentucky Jo, because she could not pronounce Kentucky Johnnie.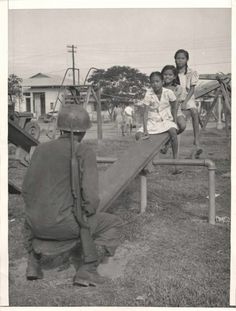 Friendly U.S. soldier stops to "teeter-totter" with Filipino children in town (1945- Dagupan)

Little Heart reminded him of all the innocent children back home. He shared his rations with her and the people of her village. He hunted for them, fished for them and supplied food for them, so they would not starve. He truly loved this child because she symbolized everything he was fighting for. Ultimately, during an enemy attack and firefight, he had to evacuate her entire village. The last memory he had of this child was when he placed her in her grandfather's arms, in the back of a transport. He cried as she disapeared from sight.
Not a day did not go by, for the rest of his life that he did not think about that little girl and what happened to her.  At the end of the war, Johnnie came back to the United States, married his sweetheart and settled in a village in Michigan.
He became the father of eight children, grandfather of sixteen, and even more great grandchildren! Naturally towards the end of his days, he had developed health issues, was almost blind, could barely hear from damage from past artillery fire and had issues with his heart. He had been going to the VA Hospital here in Battle Creek and was on numerous waiting list to get the medical attention that he needed. It seemed however to no avail.
Finally one day, a middle aged medical practitioner, that he had never seen before, had taken over his care. She seemed very affectionate and concerned about him and saw to it, as time passed, that all his medical problems were finally addressed.
One day John and his wife asked her, why she was doing this for him, when no one else seemed to respond to his needs. She rolled up her sleeve and showed him a heart shaped birthmark and responded,
"because you Tucky Jo, saved me."
Johnnie Wallen,  passed away at 86 in 2010.
This compelling and heartwarming  story is now a subject of a new book by Patricia Pollaco for  Simon and Schuster.
-Kerwin